About St. George Budapest Bridge Club
Free Online Lessons
New free lessons using Zoom commence Thursday 7 July 2022 at 10am.
For more details contact Max 0412 187 085 or 9534-6891.
Special Events Programme - Red and Gold Point events coming up
Lots of special events are now scheduled - with red, gold and double green masterpoints on offer.
Click here to see the full calendar
.
The first red point event is on Tuesday Nights 19 and 26 April, on BBO. Please register by 6:30pm and be online by 6:50pm.
Butler Pairs with IMPs scoring.
Face to face sessions on Wednesday and Saturday
Please be alert to possible changes, as we continue to navigate the on going COVID situation as best we can.
From 1 January 2022:
Wednesday Open session face to face commences at 10am. Please be seated by 9.45am.
Wednesday Supervised session face to face also commences at 10am. Please be seated by 9.45am.
Saturday face to face commences at 1.30pm. Please be seated by 1.15pm.
Online sessions
Monday 1.30pm session on BBO - for those under 300 MP. Free mini-lesson on ZOOM at 1pm. Catch-up on ZOOM at 12.30pm.
.
Tuesday 7pm on BBO.
.
Click here for updated info about BBO as at August 2021
Finds us at 2 Carrington St, Penshurst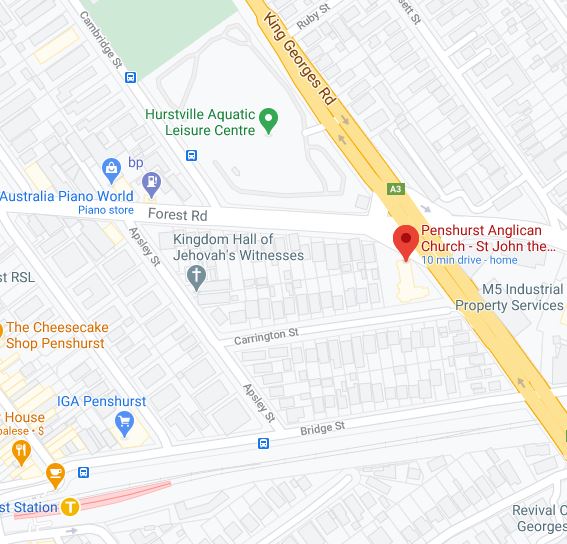 Location
Club Background
St George Budapest Bridge Club started around 1960 with four players arranging with the manager of the St George Budapest Soccer Club (formerly in Victoria St, Mortdale) to play a regular game on the soccer club premises. These players moved back to Western Suburbs Bridge Club but the game continued. The Club grew considerably with a number of players from the Roselands Bridge Club moving over in the late '70s. It moved down Victoria Street to the OES hall at No.117 in 1989 and again, in 2012, to Southside Bridge Centre, then to Oatley RSL and Community Club at 23 Letitia Street, Oatley, and most recently to its current venue - the hall at Penshurst Anglican Church - 2 Carrington St Penshurst. It continues to thrive there with over 100 regular members.