About St. George Budapest Bridge Club
Beginner Lessons
Beginner Lessons commence Wednesday 9 June 2021 (10am-1pm). Cost $10 per week, includes free flipper, system card and class notes. 3 lessons before school holidays, then revision and supervised play for 2 weeks of school holidays, followed by 3 more lessons. No experience necessary. Contact Max Gilbert 0412 187 085 or 9534-6891.
Click here for details
Face-to-face bridge is back!!
We are back to playing face to face as from Saturday 13 Feb 2021! Our new venue is the hall at Penshurst Anglican Church 2 Carrington Street Penshurst. Enter from Apsley St, then Carrington St, as there is no access from King Georges Rd. Parking onsite, in Carrington St, or walk from Penshurst Station.
.
Session days and times have changed: Mondays 6.30pm start (please be seated by 6.15pm) Wednesday mornings 10am start (please be seated by 9.45am) Saturday afternoons 1.30pm start (please be seated by 1.15pm)
.
No need to pre-register, but if you need a partner please inform the director on arrival, or beforehand.
.
We have a covid plan in place: We will be doing temperature checks on entry; if you have a temperature of 37.5 or above you will not be able to play on that day. Please bring your own pen, (and waterbottle if you need a drink). Tea, coffee and biscuits will be provided but please bring your own cup and take it home again. Sanitise your hands on entry and at regular intervals during play. One person to use the Bridgemate at each table.
.
We look forward to seeing you all!
Online bridge Continues
Additionally, for the time being, BBO sessions will continue on Tuesday nights at 7pm. (Please register by 6.30 pm, be back online by 6.50pm. Registration closes 6.55pm.)
Also BBO session for rookies continues on Monday afternoons, 1pm (often there is a short Zoom lesson at 1pm then BBO session commences at 1.30pm). All novices are welcome. ABF sanctioned sessions on BBO, eligible for masterpoints. Cost 3BB$, about $5 AUD
Click here for info about BBO
Teams events will be scheduled from time to time. Contact Max Gilbert (maxgilb@ihug.com.au) if you wish to be advised about these.
Finds us at 2 Carrington St, Penshurst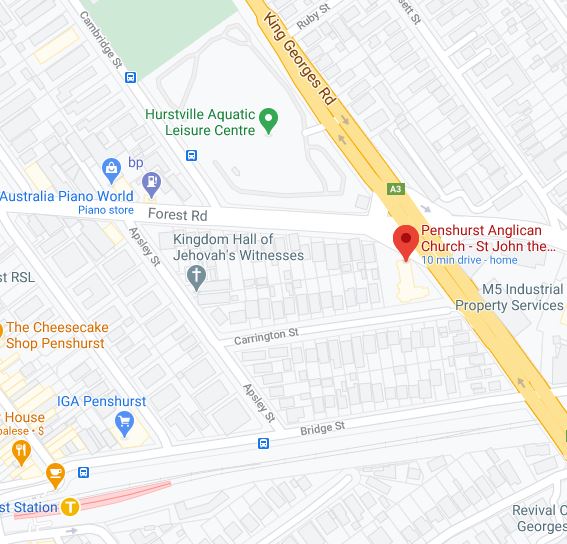 Location
Club Background
St George Budapest Bridge Club started around 1960 with four players arranging with the manager of the St George Budapest Soccer Club (formerly in Victoria St Mortdale) to play a regular game on the soccer club premises. These players moved back to Western Suburbs Bridge Club but the game continued. The Club grew considerably with a number of players from the Roselands Bridge Club moving over in the late 70s. It moved down Victoria Street to the OES hall at No.117 in 1989 and again, in 2012, to Southside Bridge Centre, then to Oatley RSL and Community Club at 23 Letitia Street, Oatley, and most recently to its current venue - the hall at Penshurst Anglican - 2 Carrington St Penshurst. It continues to thrive there with over 100 regular members.